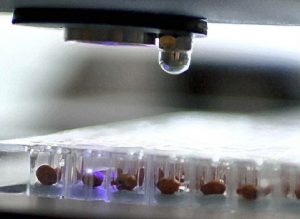 After the successful introduction of the updated Q2 Seed Quality Test in Medemblik, last January, ASTEC will continue its training sessions with a 3 day workshop on the University of California, DAVIS.
The updated Q2 will inform users exactly on the possibilities of a seed lot by showing the reaction of the seeds on oxygen deprivation in a controlled airtight environment. The new Q2 software with its easy operating module shows quickly each individual curve and the fitted average curve of Oxygen consumption of the seed in time connected to the tester. The ASTEC values can be derived now automatically and indicate several detailed quality assessments on each seed lot:
IMT: Increased Metabolism Time = Time till initial water intake is completed.
OMT: Oxygen Metabolism Rate = Energy: Speed of oxygen use.
RGT: Relative Germination Time = Indicates expected emergence time.
HOM: Homologized uniformity = Relative equality within the seed lot.
COP: Critical Oxygen Pressure = Slow down point in time on oxygen limit.
The Q2 is able to measure a broad range of seeds among which sugar beet, corn, sunflowers, cabbages, lettuce, tomato and cucumbers. Several protocols have been developed to work in a standardized way toward an optimized quality assessment.
The updated machine is now available in a package deal: Q2 Complete including all base parts, sealer, training and a starter package of testing trays and vials.
For existing customers a complete new high power sealer is available the Q-Seal. In combination with the new double strength trays and seals, this sealer secures airtight and simple sealing for all tray-sizes.
For more  information:
Freek Schreurs
Director new business
+34 660 082 636
Freek@astec-global.com